They were "sued" by Denver Broncos hall of fame  quarterback, John Elway. Hear their side of the story.
Broncos legendary quarterback and current Vice President, John Elway, has asked an obscure Colorado punk rock band named 'Elway' to stop using his surname in a letter from his attorney before the Memorial Day Weekend.
http://www.huffingtonpost.com/2011/06/01/john-elway-asks-fort-coll_n_869913.html
​John Elway's got a lot on his plate right now, what with the Denver Broncos coming off their worst season in ages and an NFL lockout preventing his new coach, John Fox, from being able to work with players new and old. But somehow, he's found time to inform members of a punk-rock band named Elway that he'd like them to change their name. Could  Westword be partly responsible?
http://blogs.westword.com/latestword/2011/05/john_elway_punk_rock_band_name_change.php
Band Links
http://www.facebook.com/elwaytheband
http://www.myspace.com/elway
http://www.twitter.com/elwayband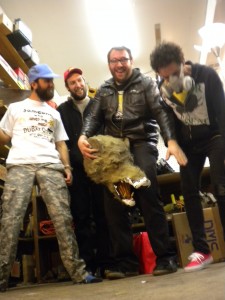 Podcast: Play in new window | Download
Subscribe: RSS