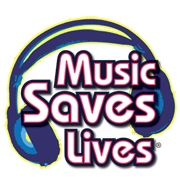 On every date of the 2010 Warped Tour, there will be a tent that may and should spark your interest, and that tent belongs to Music Saves Lives.   Members from radio shows on idobi will be teaming up on select Warped Tour dates so come say 'hi' to your favorite hosts!
This organization is bringing a simple concept to the world; to connect the music and entertainment, we all love, to a life saving community action.   This group, led by founder Russ, is spreading the word with facts and educating everyone they can about blood donation and the bone marrow registry.   Music Saves Lives has a three part mission of commitment; to community, to industry and to health organizations.
This group creates opportunities for people to save lives with simple contributions and to teach the facts about the affects of what they contribute to.   They give the entertainment industry and related industries the opportunity for planned direction in saving lives in communities worldwide.   In addition, Music Saves Lives commits to work hand in hand with life-saving organizations and giving them the opportunity to advance their goals in unprecedented ways and continue to reach out in a relevant way merging the organizations causes.
This year the organization is teaming with Fearless Records to send their fans to Warped Tour with partnerships with bands such as Artist Vs Poet, Sparks the Rescue, Alesana, Motionless in White and The World Alive.   Tonight, Friday June 18th, Russ will be interviewed on the XtremeBitz radio program on idobi radio at 10pm.   Listen in all week for information regarding Music Saves Lives and how you can help out with the cause.